Junior Presentation Day - Sunday 22nd September 2019
This will be held at Peakhurst Park. Trophy Presentation will commence at 11am sharp.
All players and families welcome.
BBQ Food available for purchase on the day.
Bring a chair/blanket and enjoy our annual award and picnic day :)
---
We are so proud to announce we have donated $8975.00 towards Women's Cancer Research.
Thankyou to all who supported and donated to this event, and all the teams that competed.
We hope everyone enjoyed their day. 
---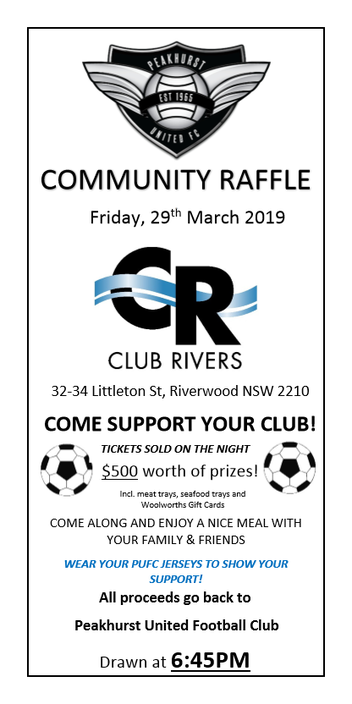 Club Rivers have kindly organised a raffle evening for us. This will be held on Friday 29th March. 
They have generously donated all prizes for the night and all proceeds go to us, Peakhurst United.
This is a fantastic initiative and we can't thank them enough.
Get your teams together, family and friends, enjoy a meal at Club Rivers, support the raffle and wear your Peakhurst United jerseys.
Raffle drawn at 6.45pm.
Hope to see you all there 
---
Unfortunately due to the wet weather forecast for this weekend we have had to make the decision to cancel our BBQ.
---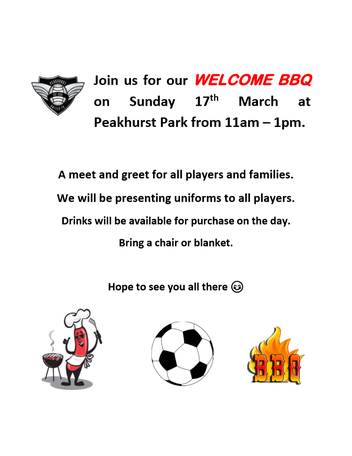 We are holding our Welcome BBQ on Sunday 17th March at Peakhurst Park from 
11am - 1pm
Uniforms will be presented to players on the day.
Bring a blanket or chair.
See you all then 
---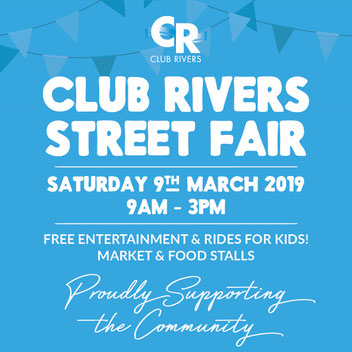 Our main sponsor, Club Rivers are holding their Annual Street Fair on Saturday 9th March from 9am - 3pm.
This is a fun day out for the children with rides, market and food stalls and free entertainment.
So put this date in your diary and bring the kids for a fun day out.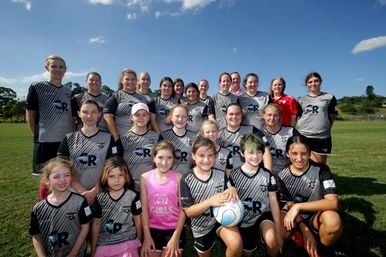 Our Pink Ribbon Gala Day is nearly here.
Come on down to Peakhurst Park and support this great cause from 9am on Sunday 3rd March 2019.
All monies raised go towards women's cancer research.
The SGFA are also running a Free Girls Clinic on the day.
Come down and show your support
Lots of fun to be had on the day 
All players in the below age groups should come to Peakhurst Park at the time and date listed below. 
(A PARENT SHOULD ACCOMPANY JUNIOR PLAYERS).
All players will be organised into teams. A coach and manager will be selected for the team and a training night and time will be organised. See you there 
| | |
| --- | --- |
| Age 6 | 6.00pm Monday 18th FEB |
| Age 7 | 7.00pm Monday 18th FEB |
| Age 8 | 6.00pm Tuesday 19th FEB |
| Age 9 | 7.00pm Tuesday 19th  FEB |
| Junior Girls (6-11 yrs) | 6.00pm Tuesday 19th FEB |
| Age 10 | 6.00pm Wednesday 20th FEB |
| Age 11 | 6.30pm Wednesday 20th FEB |
| Age 12 and upwards | Teams will be advised |
---
See our 2019 Registration Information Tab for more info.
---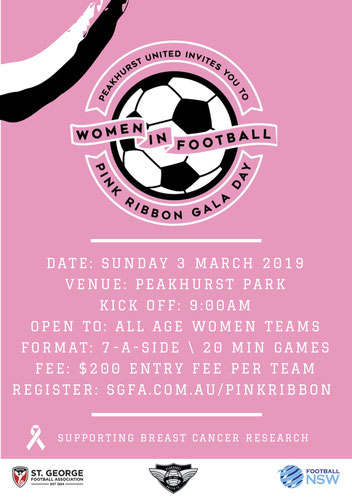 Our Pink Ribbon Women in Football Gala Day will be held on Sunday 3rd March 2019 at our home ground, Peakhurst Park.
All monies raised will go to support Breast Cancer Research.
The day is open to All Age Women teams - 7 a side - 20 min games - $200 entry fee per team.
Registration details are on the flyer.
Put this special date in your diaries.
---
Pictures of some very happy little faces playing in front of over 17000 people at Jubilee Oval on Sunday. 
The children had a blast.
---
Club Rivers have some wonderful activities coming up :
Saturday 24th November - FREE Kids Xmas Show
Sunday 2nd December - $5000 Kids Toy Raffle
Wednesday 24th January 2019 - FREE Kids School Holiday Movie "The Jungle Book"
Family Dining Special - Kids Bonus Meals on Fridays and Sundays
---
We are looking for a Coach for the 2019 season that has adequate knowledge, understanding & skills for the following :
* Run 2 x training sessions per week for a squad of up to 40 players (training equipment supplied)
* Coach Reserve Grade and 1st Grade on game day (Saturdays 12pm - 5pm)
Please direct all enquiries to Niall Oates on 0448 450 493 or n_0111@hotmail.com
---
Junior Presentation Day - Saturday 13th October -12.30pm @ Peakhurst Park
U6 - U16 year teams.  All players and families welcome. BBQ available on the day.
** Update  **  Junior Presentation Day has changed venue to Club Rivers, Littleton Street, Riverwood,                               due to rainy weather. Same Time 12.30pm sharp.
Senior Presentation Evening - Saturday 20th October - 6.30pm for 7pm @ Club Rivers.
All Age teams. All players and partners welcome. Trophy Presentation will commence at 8pm sharp.
Hope to see everyone here celebrating their season of soccer @ Peakhurst United.
---
Our U16 Girls will be playing their Grand Final this Sunday 19th August 2018
They are playing at 11.30am @ OKI Jubilee, Kogarah vs Sans Souci.
Come and support our girls.
Good Luck girls and enjoy the day 
---
Our All Age Women will be playing their Semi Final this Sunday morning 19th August 2018
Their game is at 9am  vs Carss Park @ Kingsgrove Avenue.
Come down and cheer our women on.
Good Luck Ladies 
---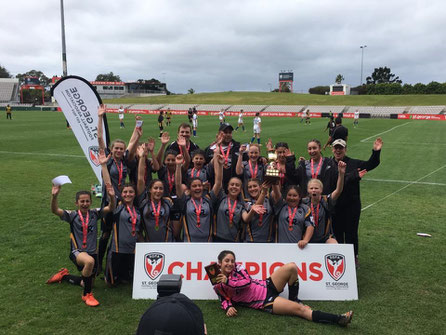 Congratulations to our 2018 premiers 16 Girls Team.
The girls had the privilege of playing at Oki Jubilee Stadium in front of family and friends and were in total control of the final. 
The club can not be prouder of these group of girls who have gone from being last in 2016 to champions in 2017 and 2018.
---
This is a reminder sent out by St George Football Association as a reminder to all clubs about the standards they hold and their zero tolerance to anything that doesn't meet them. Peakhurst United loves the image that we all present and wish to continue to show it. Keep doing what you all do so well!
Spectator Code of Behaviour YELLOW[2031]
Adobe Acrobat Document
99.9 KB
---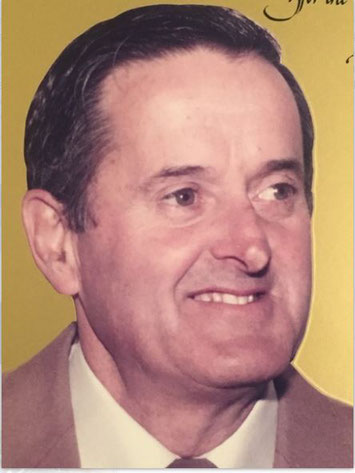 It is great sorrow that one of our great clubmen Ted Hubbard has passed away on Thursday 25th August aged 88. Ted was one of the clubs great men, serving the club for 25 years in many capacities- coach, manager and president at various times. His memory will live on especially at his beloved football club Peakhurst United. Our condolences to Ted wife Betty and family.
Service details below
http://www.heavenaddress.com/Edward-Ted-Robert-Hubbard/1509749/
---
Peakhurst United JFC celebrated our 50th Anniversary with a dinner and awards night on 26th September 2015 with special guests including former Socceroo Harry Williams and one of the clubs founding members Horace "Hoddy" Bourke. The night was a success with many former players, committee members and lifetime supporters of the club there on the night. We thank everyone for their attendance and look forward to the next 50 years!
---